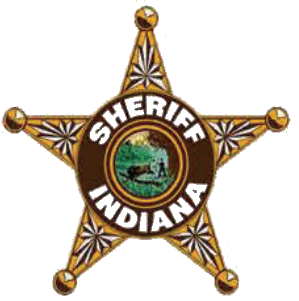 The Decatur County Sheriff's Department was established in 1822.
THE COUNTY JAIL
On February 11, 1823 the Board of Commissioners ordered the construction of the first Decatur County Jail. This jail stood on the west side of the court house yard. It was poorly constructed and its first prisoner was Hiram Hendricks.
In 1832 it was decided that a new jail was needed. The materials from the old jail were sold by the Sheriff and the new jail was completed in October of that year.
On June 15, 1859 the Board of Commissioners passed a motion to remove the county jail from the court house square and ordered the Sheriff and auditor of the County to purchase a suitable site and remove all materials from the old site. The new site selected was on the north side of West Main Street, ½ block from the public square.
The court yard jail was removed in September of 1859 and the new jail was in use until 1880 when on the 20th day of May a contract was awarded for the construction of another new building.
The 1880 building under went several renovations and continued to serve the County until 1979 when the Board of Commissioners again ordered the construction of a new jail.
The new jail is located at 119 East Railroad Street. This building is still in use and has itself undergone renovations.
In 2005, The Board of Commissioners purchased the former Washington School building on South Ireland Street to serve as a County annex. The annex includes the Sheriff's office, 911 dispatch and modern work release facilities for male and female inmates. The building on Railroad Street remains the County jail.
DECATUR COUNTY SHERIFF'S
William Ross – Appointed
Doddrige Alley – Elected
John Parks
Abraham Hendricks
John Thompson
James Morgan
Wyatt R. Henderson
Michael Swope
John Imlay
John D. Wilson
Joseph V. Bermushaffer
Edward A. Jocelyn
Phillip Mourer
Charles Sherman
Charles Woodward
Henry Reddington
Giles E. White
James Fiscus
Andrew J. Smith
John W. Stout
Merrit C. Welsh
George S. Dickey
William T. Stott
Jacob Biddinger
S.N. Patterson
John DeMoss
John Adam Meek
Knute Coy
Taylor F. Meek
Jefferson C. Davis
Harry W. Braden
Otis Maddux
Robert Alexander
Edward Overton
Charles Beeson
Sam Curry
William F. Davis
Earl Marlow
Claude Connor
Salvatore Navarra
Irvin Gilley
Clinton R. Tucker
Edwin Schwendemann
Ralph Meer
Larry Snyder
Jon Oldham
Daryl Templeton
Gregory D. Allen
Dave Durant